// DURABLE FLOORING
Give your garage a gorgeous floor that lasts and lasts.

// CLEAN AND NON-SLIP
Our flooring makes your garage easy to clean and safe to use.
// LIQUID RESISTANT
Wall-to-wall flooring that resists water, oils, and chemicals.
CONSULTATION
IT'S TIME TO GET ORGANIZED.
CONSULTATION
IT'S TIME TO GET ORGANIZED.
DURABLE GARAGE FLOOR EPOXY TREASURE COAST FAMILIES LOVE
Garage Gem makes it possible to create a garage that you are proud to show off to family and friends. Unsightly blemishes on a garage floor make you want to shut the garage door and never open it again. With our garage floor epoxy in Treasure Coast, we help you create a unique and stylish garage floor that you will want to show off to everyone you know.
// DURABLE
This garage floor alternative is built to withstand scratches, stains, and imperfections. Because of this, our garage floor epoxy in Treasure Coast is perfect for families.
Choose from a wide variety of handsome flake options to create the garage floor that you can't help but admire.
//
PROFESSIONAL PREPARATION
Our trained installation technicians take the time to grind away any stains and fill in pits or cracks before applying your new garage floor to give you a beautiful finish.
NO PEELING
Diamond grinding ensures a superior bond that won't peel
UV STABLE FLOORING
Base coat will never fade, top coat will never yellow
CRACK & SPALLING REPAIR
We fill cracks, spalling, and control joints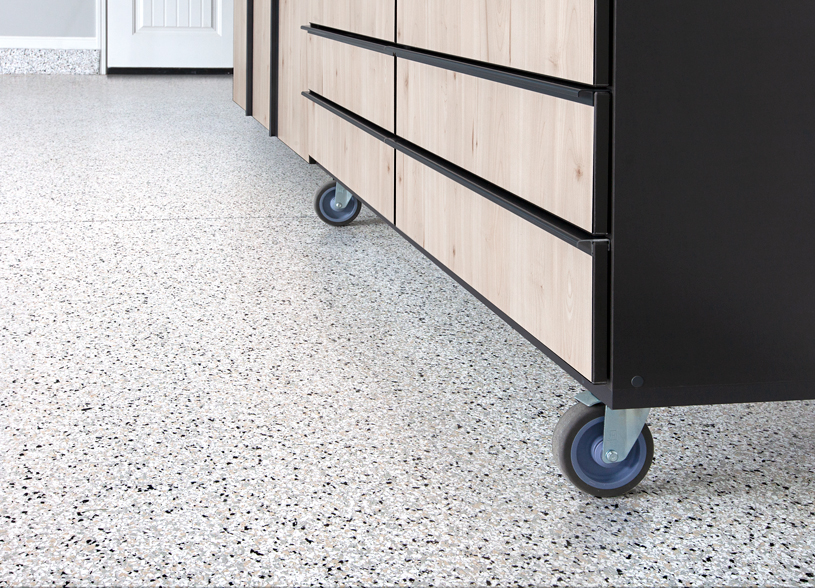 Quality Garage Flooring
Turn your boring stained, cracked and chipped garage floor into something smooth and inviting. Our easy process and quality product will make your floor last for years to come. Find out here how our system will exceed any flooring kit you would find in the retail stores.
UV Stable: Do you sometimes leave your garage door open while you work in the yard? This leaves your garage floor exposed to direct sunlight. Our garage floor epoxy in Treasure Coast is UV stable, meaning it won't fade or become discolored from exposure to sunlight over time.
Installation: This process will be professional, quick and efficient. There are two-steps, generally taking two days with a finished product ready for use within 24 hours.
Showroom Look: Like what you see in home design magazines? This garage flooring alternative can take your garage from a space you can't stand to look at to a space that looks like it came straight from the pages of a magazine.
Safe Chemicals: To keep you and your family safe we use only low VOC, Non-toxic chemicals that do not produce harmful vapors, giving you the safest epoxy garage floor in Treasure Coast.
FREE ESTIMATE
Garage Flooring Highlighted Benefits
Maintenance: Maintain your garage floor with a simple sweep, creating an easier clean up for the entire family.
Good Bye To Oil Stains: Tired of your floor being ruined with oil stains? Our garage flooring in Treasure Coast is quality assured, preventing oil stains from sticking and can be cleaned up with a wipe of a cloth.
Protective Coating: With a strong sealed coating, no need to worry about debris getting under the surface of your floor.
Increased Home Value: Add value to your home through your garage with a customized, professional floor coating. Choose between any of our floor styles to set your garage apart from the rest.
To find out more about our epoxy garage floor, Treasure Coast families love, give us a call today!
// AS SEEN ON
Fan of home improvement shows like HGTV's Property Brothers? Did you know our products have been featured on both? Get those same products installed in your garage! Call us today to schedule your free, no-obligation estimate!
It's more than storage.
It's your life.™