// SHELVING AND RACKS
Get a one of a kind garage with top of the line products.

// WE'VE GOT OPTIONS
Custom designs to fit any garage and any hobby.

// ROOM TO SPARE
Get garage clutter off the ground and out of the way.
CONSULTATION
IT'S TIME TO GET ORGANIZED.
CONSULTATION
IT'S TIME TO GET ORGANIZED.
GARAGE SHELVING TREASURE COAST CAN TRUST
Stop spending time and money on command hooks and cabinets that will only conceal the problem for a short amount of time. With our garage shelving in Treasure Coast, you can have top of the line products without the top of the line price tag.
//

Lifetime Warranty
We back each of our products with a lifetime warranty

//

MAXIMIZED STORAGE
Our shelving provides the maximum amount of storage in a small space by hanging your items in layers.

//

DURABILITY
Made with powder-coated steel, these shelves are built to withstand scratches and rust.
Bring this solution to your home today. Let our garage shelving in Treasure Coast do its job.

STRONG
Holds 1000lbs every four feet of shelving
TWO COLOR OPTIONS
Designed to match any home and style
OFF THE FLOOR

Get everything off of your floor for easy cleaning
COLOR COORDINATED

Designer Series finishes match your garage cabinets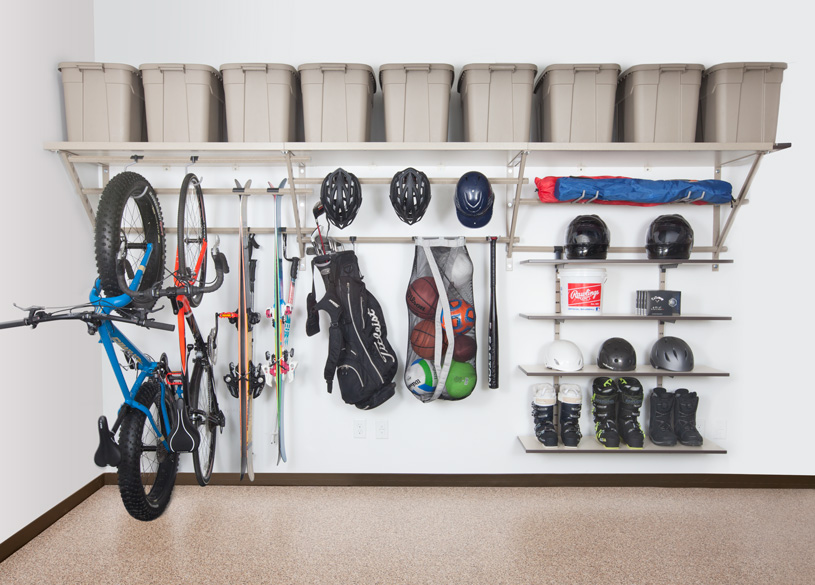 Garage Shelving and Accessories
Layered Hanging Items– Maximize your space by hanging your storage items from our bars and hooks. By hanging items you can create multiple layers, storing more things in one small area than other systems can.
Inverted Shelves– If you have high ceilings or space above doorways, these shelves are for you. They also fit above most garage doors maximizing your storage capacity
Hanging Hooks– These hooks can hold all of the stuff you thought would have to stay on the floor such as wheelchairs, kayaks, balls, fishing poles and many other items.
Strength: No need to worry about your shelves supporting the weight of your storage. Each 4-foot section can support 1000 lbs of whatever you want!
Contact Garage Gem today they will be happy to answer any questions.
FREE ESTIMATE
Fulfill Your Garage Organizing Needs
Monkey Bars is here for you and your garage organization needs. Take advantage of all our products, they will make your life that much easier.
We are devoted to your every need. If it is to clear out clutter, to fit your car, or just to see your space spotless again, we can do it. Let us help you with your organization and storage needs.
Increase Square Footage: The average Monkey Bars system increases a homeowner's usable square footage by 50%.

Shelf Mounting
?
The perfect storage solution
for garages, sheds, storage units and commercial buildings.
Installation: Monkey Bars mounts to various materials such as stud, brick, cinderblock and concrete walls.
// AS SEEN ON
If you're ready to transform your garage into the ultimate in efficient organization, garage shelving in Treasure Coast is a great way to get started!
It's more than storage.
It's your life.™
IT ALL STARTS WITH THE SHELF
// 24" D-10 GARAGE SHELVING
24" deep shelf, 10 adjustable bar positions.
// 16" D-6 GARAGE SHELVING
16" deep shelf, 6 adjustable bar positions.
// 24" D-6 GARAGE SHELVING
24" deep shelf, 6 adjustable bar positions.
32" deep shelf, 10 adjustable bar positions.
Great for over windows and doors.
Great for over garage doors.
Easily and securely snaps in and out of the brackets. Available in 35" and 51" lengths.
Hooks snap on and off bars and hang almost anything off the ground.
Eight
hook types to neatly store the items in your garage
.
//
ADJUSTABLE WALL SHELVES
Shelves 13" deep and 36" or 44" long. Can mount directly to a wall or suspend from a Monkey Bar.
Sturdy when you need it, out of the way when you don't.
Easy organization for sports fans in your family.
Great for helmets, sports gear, exercise equipment and more.
Perfect for holding garden hoses, air hoses, and extension cords.
Stores golf balls, baseballs, hand tools and more.